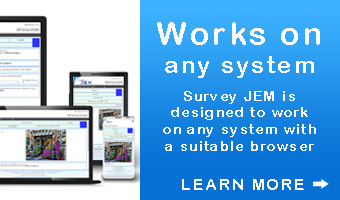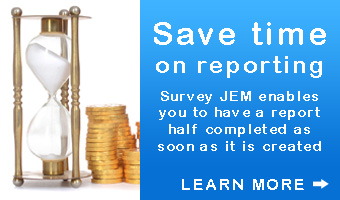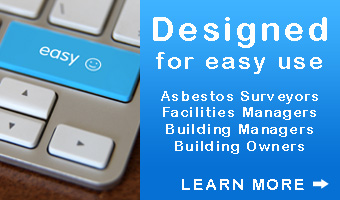 Asbestos Database
Asbestos surveying and management online
Survey JEM™ is a powerful online asbestos reporting and management database application. Survey JEM™ is designed for use by everyone from the independent asbestos surveyor to the largest asbestos surveying firm. Survey JEM™ can also easily be used by property managers to retain ownership and control of their own asbestos information. With prices to suit small or large volume customers alike, why not request a trial of Survey JEM™ today.
Over two decades of experience
When we first started creating asbestos database products for our clients in 2001 most asbestos database software was quite basic. The database engine was usually Microsoft Access and they were designed by software engineers who generally assumed they would be used by people who think like a software engineer. If a user struggled to understand how to use their shiny new asbestos database then they were just offered expensive courses rather than looking at the underlying usability of the system. This approach may have resulted in large profits for the software companies but it caused lots of stress for the people expected to use the systems on a daily basis.
Survey JEM™ - No manual required!
At AFM Web Design we pride ourselves on designing software which is easy to use. We have hardly ever had to run training courses and get very few enquiries from users wanting to know how to do something. Our first asbestos database even had a full help section where the user could point the mouse at anything on the application, press the F1 key and relevant help would be displayed. The help was hardly ever needed and added an extra cost to keep updated so it was dropped from later versions. We even added a line to the start of the help file to the effect that if the reader phoned us then we would send them a five pound note. The line was in the help file for six months and we never had to pay a penny. We design all our software for the end user so the help file was simply never needed.
Asbestos database data exports
Our first asbestos database had only been in use for a short time when we were asked to help export asbestos survey data to a property management database used by the customer of one of our clients. Once we received the data export specification we added an easy to use export manager which enabled our clients to select and export asbestos survey data in no more than a few minutes. They would then send the data to their customers on a CD (this was in 2002).
Since the first data export we have created and added many more. The file format changes often, the data values mapping usually causes some interesting challenges but the end result has always been an export which works for our clients. Some exports have been added so quickly that they took the end recipient by surprise. One export was added for a national, blue chip customer from the specification they had supplied only a few weeks before hand. They were surprised to get any data so quickly having anticipated receipt in months not weeks and were not ready. We ended up working with them to iron out a few kinks from their specification.
Asbestos database data imports
As well as exports we have also been involved with saving our clients time and money by helping to import large amounts of data into their asbestos database application. We have helped import address information for a range of Councils who often manage tens of thousands of properties. During the process we helped filter and cleanse the address data, flagging any duplicate entries or those with incorrect formatting. Survey JEM™ is able to import any number of property addresses which is just another way the Survey JEM™ asbestos database application can speed up data entry and therefore save time and money.
Further information
If you would like to know more or are interested in trying Survey JEM™ we would be happy to help. Phone us on 01953 425 932, email us at info@surveyjem.co.uk or fill in our contact form and we will be in touch as soon as possible.