Survey JEM™ PAYG Pricing
Survey JEM™ - Perfectly priced for everyone
One of the biggest problems with asbestos survey reporting and asbestos management software is the prohibitive costs involved. Most of our competitors offer systems which are not cheap and usually come with substantial, upfront charges. The prices often put them out of reach for many small firms, independent surveyors or low volume users. Survey JEM™ has a 'Pay as you go' style pricing structure which allows anyone to have access to an excellent asbestos survey reporting and management application for a very low price.
Full functionality from the start
The full functionality of Survey JEM™ is available to you simply by purchasing a permit code for as little as £125 plus VAT per year. Each permit code allows access for up to 25 users and includes an initial 10 MB of data storage space. 10 MB is enough space to create and store asbestos survey reports for three or four domestic properties or one or two larger premises. You can add additional storage as and when you need it. Some of the scenarios our pricing structure allows are explained in detail below.
Current PAYG pricing enjoyed by Survey JEM™ users
Typical scenarios for a variety of Survey JEM™ clients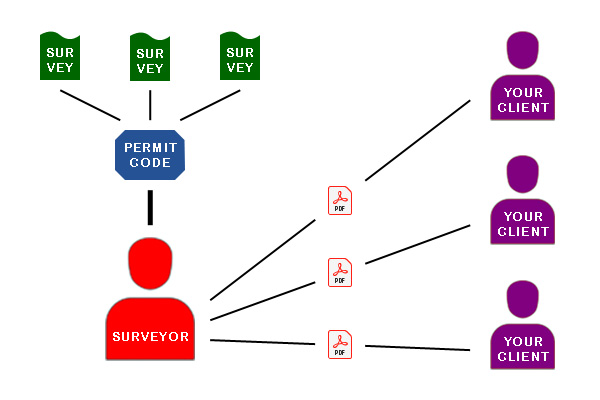 If you are an independent surveyor and most of your work involves 'one off' inspections such as a pre house purchase surveys then you only need a permit code to have full use of Survey JEM™. A permit code will cost you no more than £125 plus VAT per year. You can create a professional survey for a typical house in around 20 - 30 minutes and then send the PDF report to your client. You can then simply delete the survey and add the next one. The 10 MB of storage space included with each permit code is enough to store 3 - 4 surveys for a typical house or one or two surveys for a larger building such as an office block or care home.
We have found that our clients who are independent surveyors generally like to add some extra storage space so they can store around 50 surveys. This allows them to complete new surveys quickly by opening a previous one and editing it rather than creating a fresh one. An additional 100 MB of storage space costs just £130 plus VAT per year so investing in extra space quickly provides a return by saving you time.
Survey JEM™ is particularly popular with low volume users such as demolition companies. They may only need to create a few pre-demolition surveys each year and do not need to carry out any re-inspections. Survey JEM™ allows them to comply with their responsibilities with the minimum amount of effort and without costing them thousands of pounds a year.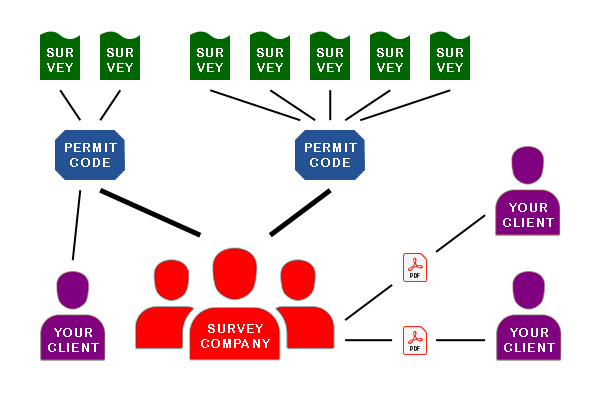 Survey JEM™ can easily accommodate the requirements of any size of Surveying Company. Each permit code allows up to 25 users full use of the system and of course the number of users can easily be increased. You may not want every user to be able to do everything on Survey JEM™ so you can set privileges for each user according to their requirements.
Your clients with larger portfolios who want their own online access to Survey JEM™ simply need to have their own permit codes. These can be supplied by us directly or through you allowing you to add your own mark up. You will not need separate logins for accessing your client's data. Your staff's existing logins can be quickly set to provide them with easy access to multiple permit codes. Spreading the costs for Survey JEM™ across your clients allows you to keep your own costs low and minimises any unused system capacity.
Any surveys which require regular re-inspections are simply stored on Survey JEM™ ready for new editions of the survey reports to be created each time. Survey JEM™ is designed to keep the amount of data required for new report editions to a minimum by referencing previous sample photos and only storing the latest versions of PDF reports.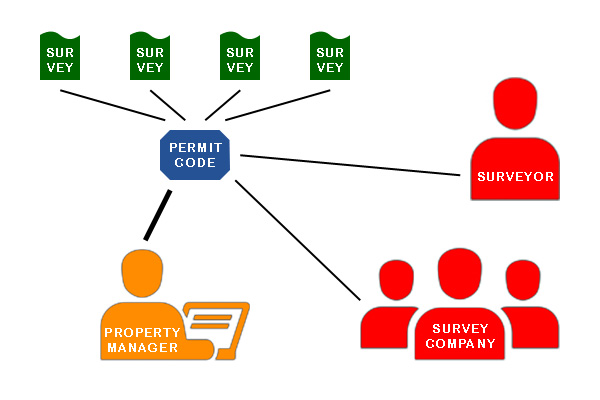 Survey JEM™ allows you to take easy ownership of all your asbestos risk information within your portfolio. To use Survey JEM™ you will need a permit code and enough storage space for your asbestos surveys. You can create logins for any surveyor you wish to use allowing them the access they need to add and update your asbestos surveys. User access to Survey JEM™ is audited so you can keep track of when people have logged in and what they have done.
Survey JEM™ allows you to manage your asbestos risks and highlights asbestos management priorities and timescales. Survey, sample and area information can be easily exported allowing you to create spreadsheets of actions and reducing the amount of work required for planning or producing tender specifications.
The user access auditing also allows you to issue logins to contractors and check if they have looked at asbestos risk information for any area they need to work in before any work commences.

Dave the independent surveyor
Dave is an independent surveyor mainly carrying out pre purchase asbestos surveys for property buyers. He buys a permit code for himself and a single block of additional storage which costs him £255 plus VAT for the year. An asbestos survey for a typical house uses approximately 2 MB of storage space so with his 110 MB of storage space he can store around 55 surveys. Since Dave has no need to carry out re-inspections he can create a survey and send his client the PDF report then delete it and add the next one. The additional space Dave purchased allows him to keep a range of completed surveys on Survey JEM™ so he can save time by editing them for new surveys rather than creating fresh ones if he wishes.
Dave gets a call from Peaceful Meadows
One day Dave is asked to carry out an asbestos survey for a retirement home called Peaceful Meadows. He could add Peaceful Meadows using his own permit code but the Manager of Peaceful Meadows would like regular re-inspections carried out and online access to their asbestos risk information so they can provide audited online access to contractors.
Dave buys a second permit code for Peaceful Meadows. The 10 MB of initial storage space included with each permit code is enough for this asbestos survey so it costs him £125 plus VAT which he passes on to Peaceful Meadows with a mark up as part of the price for his services. Dave can access the Peaceful Meadows permit code using his own login in order to manage their asbestos risk information. The Manager, personnel and contractors working at Peaceful Meadows all have logins for Survey JEM™ but they only have access to the Peaceful Meadows asbestos risk information.
Things are going really well for Dave
As Dave's business grows he lands a contract to carry out surveys and re-inspections for a County Council with over 25,000 properties. Dave buys a permit code for the Council to which his team of surveyors have access along with the Council Asbestos Management Team. The Council are also able to carry out regular exports of data to transfer into other related software packages they already use. Since this is a large volume user Dave gets a substantial discount on the price of the data storage needed for the Council asbestos surveys. If you would like to know how much discount then please contact us and we would be happy to discuss your requirements.
Survey JEM™ Support Services
We provide telephone and email support free of charge (at our discretion). We do not charge for telephone or email support as we would rather hear about a problem than have people worry that it may cost them money to talk to us. Should an issue require face to face support or a site visit then this will be chargeable at an hourly rate of £60 plus VAT. Any travel time required will be chargeable at the same hourly rate.
Survey JEM™ Training
Survey JEM™ is designed with user friendliness as one of the top priorities and as a result we hardly ever need to provide training. However, face to face training can be provided at an hourly rate of £60 plus VAT if you wish. Any travel time required will be chargeable at the same hourly rate.
Data processing
Survey JEM™ is able to import existing data for surveys or addresses although this may require some prior manipulation and processing of the data. Survey JEM™ is also able to export complete data for each survey on request. Any work required to import or export survey data is charged at an hourly rate of £60 plus VAT.
Please note
All Survey JEM™ permit, additional user and survey costs must be paid prior to usage. Overdue invoices will result in a suspension of services until payment is made.
Further information
If you would like to know more or are interested in trying Survey JEM™ we would be happy to help. Phone us on 01953 425 932, email us at info@surveyjem.co.uk or fill in our contact form and we will be in touch as soon as possible.
Hashtags: #Asbestos #AsbestosReportingSoftwarePricing #AsbestosManagementSoftwarePricing