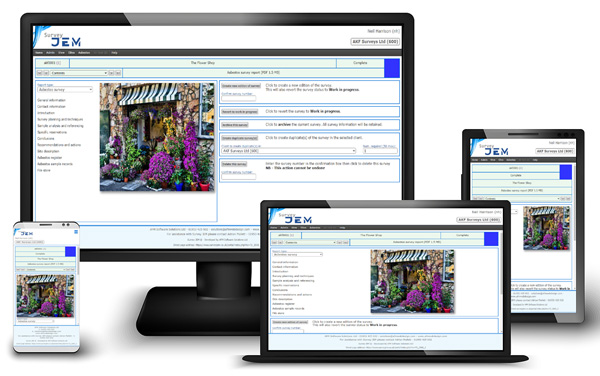 Years of experience saving time and money for our clients
Survey JEM is a web application so it is designed to work on any system with a suitable, up to date Internet browser installed. We recommend using Google Chrome but Survey JEM works just as well on Safari, Edge or Firefox.
Survey JEM is also designed to maximise the available work area on your device of choice. It will resize to fit the screen area using a layout which provides optimal ease of data entry. The result is an application which works well on a full size monitor, laptop, tablet or mobile phone.
The Survey JEM developers were involved in the early days of asbestos surveying software when attempts were being made to carry out asbestos surveys on PDA devices. The valuable experience gained from years of developing electronic data entry has been incorporated into our software.
We find our clients prefer to use a variety of approaches to data collection. Some prefer to collect information rapidly using paper based systems then create the reports on Survey JEM in the comfort of their offices. Others prefer to fill in a survey as they walk around a premise. Survey JEM supports both methods of data collection equally well.
Also, Survey JEM has the added advantage that no data is lost if a surveyor happens to drop their laptop out of a window. Data is entered in real time so the moment you have saved an item of data you can be assured it is safe.
Further information
If you would like to know more or are interested in trying Survey JEM™ we would be happy to help. Phone us on 01953 425 932, email us at info@surveyjem.co.uk or fill in our contact form and we will be in touch as soon as possible.