Asbestos Surveyors

Powerful online reporting tool




Survey reports in PDF format
Surveying Companies

Fully compliant with HSG264

Online client survey access

Customisable report options

Data import / Export available

Very low training requirement
Property Managers


Keep ownership of your data


Monitor access by contractors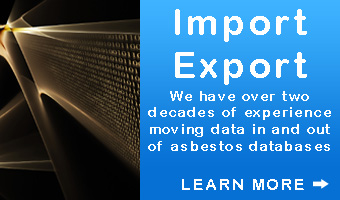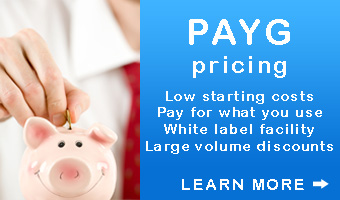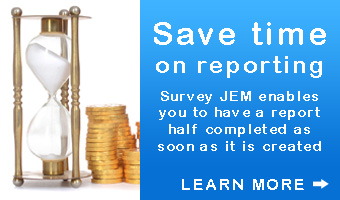 Survey JEM™ asbestos surveying and management tool
Survey JEM™ is a powerful and inexpensive online asbestos survey data storage and reporting tool. Survey JEM™ has been designed for use by any size of surveying company from individual surveyors up to large organisations. Survey JEM™ can also be used for managing asbestos by property owners and management teams. Survey JEM™ can easily manage any number or size of properties and is currently in use with a range of clients from very prestigious building managers to independent surveyors carrying out pre-purchase house surveys.
Very easy to use
Software should be easy to use. Survey JEM™ was designed from start to present with the end user as a priority. Making software easy to use provides a range of benefits.
We hardly ever need to provide training
If a system is easy to learn and use then this reduces the requirement for expensive training courses or regular refresher courses. Most software applications are designed by programmers for programmers. We design our software for the actual user and ideally we want the person in the office who asks questions like "How do I turn it on?". If the person with the lowest level of IT competency can easily get to grips with an application then everyone else should be fine. This approach has resulted in us having to provide no more than a few days worth of training in two decades. The training is available if our clients require it, it is just that hardly anyone has ever asked for it and that is a fact we are very proud of.
Data entry takes less time
We have always designed and developed our software to allow people to follow logical methods of working. We have designed SJ to allow tiered data entry so that the same data need not be entered more than once. The system of data tiers and the ease of use results in less data entry time enabling our software users to be more productive.
Easy to customise
Survey JEM™ has a range of options for you to customise the look of the online interface as well as the PDF report. You can add your company logo, set default text to automatically be loaded into the report when you select the type of premise, upload company documents and set other logos such as your UKAS accreditation.
Maximising data quality
If an application is easy to use then people tend to make fewer mistakes. There will always be an element of human error if humans are involved but people are less likely to get things wrong when an application is easy to learn and easy to use. The quality and accuracy of data within an asbestos survey has serious implications for health and safety. Maintaining a high level of data quality could be the difference between a tradesman drilling into asbestos or not.
Further information
If you would like to know more or are interested in trying Survey JEM™ we would be happy to help. Phone us on 01953 425 932, email us at info@surveyjem.co.uk or fill in our contact form and we will be in touch as soon as possible.
Hashtags: #Asbestos #AsbestosSurvey #AsbestosManagement #AsbestosReportingSoftware #ManageAsbestosOnline